About Us
Founded in 1992, Wuxi Hualing Filter Equipment Co. is a dependable manufacturer of a variety of industrial filtration equipment. Located in Wuxi, Jiangsu Province, our production facility covers an area of 8,800m2. We mainly produce filtration products applied in machinery, textile, chemical, electronics, transportation, aviation, and environmental protection industries.
Some of our main products include: XF series compressed air filters, air water separator filters, air oil separator filters, air exhaust mufflers, diffusers, dust collecting cartridges, and water filters. We also provide high-quality replacement filters that are comparable to Domnick Hunter, Hankison, Parker, Ultrafilter, Hiross, Zander, BEA and SMC filters.
Applying our many years of experience, Hualing is engaged in the R&D, production, and sales of outstanding filter products. Our technical team is made up of 15 technicians with more than 15 years of filtration industry experience and they are well-equipped to solve any problems that may arise in production. The R&D department can provide you with products according to your demands by collecting data, designing models, testing, and producing samples for your approval.
We utilize about 50 pieces of machining equipment, including CNC machines, welding equipment, and laser equipment. We also have 2 filter element production lines, giving us the capabilities to meet your various processing requirements. Our products are not only popular in China, but we also do business throughout Europe, America, Japan, and Southeast Asia.
Our filters and filter elements have passed ISO 9001-2000 quality system certification. We implement a strict quality control system that begins with raw materials selection and only ends with finished product inspection.
We have a complete range of testing equipment, including a German GMN test bench that meets ISO12500-1 standards and can test the performance of compressed air filters. Moreover, our filter elements have passed strict quality tests and they can meet the same level and standards as foreign filter elements, so they can replace imported filter elements completely.
Advanced sensor equipment
Top particle counting equipment and advanced online-testing method can significantly reduce testing errors and human misjudgment
Comparison between our products and imported products in experiments serves as important evidence of quality improvement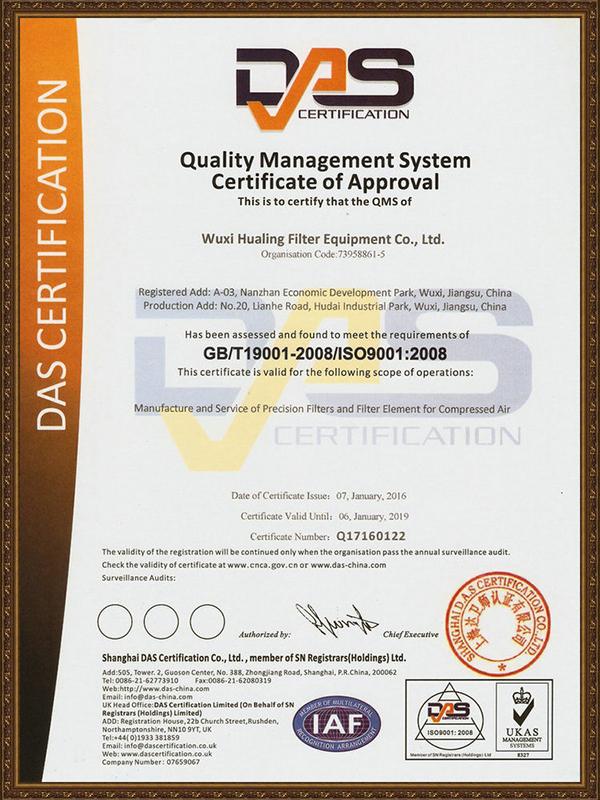 We have established many sales and service institutions in China, which allows us to fully understand the requirements of customers. Hualing also maintains complete customer files, management centers, and marking centers. We keep in touch with customers through exhibitions and other online methods so that we can best serve them.